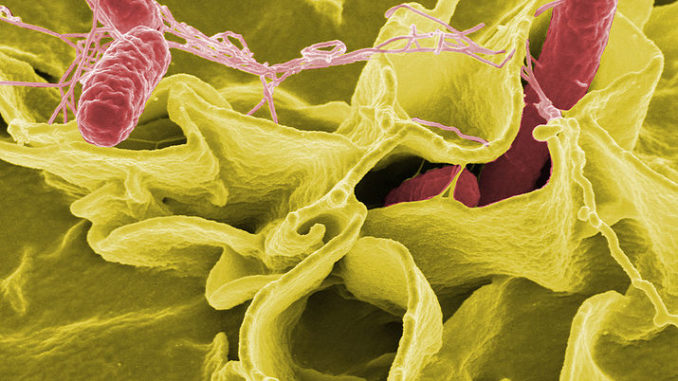 Salmonella is an infection which its actual name is "salmonellosis." But most people know it by the name salmonella, which is actually the name of the bacteria that causes the infection.
Salmonella infections are quite common. Throughout the world, tens of millions of cases are reported every year. Most people get over it without treatment, but some cases are so severe people need to go to the hospital.
Symptoms
Most of the symptoms you'll have from a salmonella infection will be stomach-related:
Cramps in your stomach
Bloody stools
Diarrhea
Cold and chills
Fever
Headache
Sick to your stomach
Throwing up
Prevention
Even though salmonella can hide in a variety of foods, you can do a lot of things yourself to help ensure the sneaky bacteria doesn't invade your gut:
Avoid eating raw or barely cooked eggs.
Don't eat raw or undercooked beef, pork, or poultry.
Refrigerate food properly, both before cooking it and after serving it.
Wash your hands well with soap and warm water before, and after, handling food.
Keep kitchen surfaces clean before preparing food on them.
Do not mix cooked food with raw food or use the same utensils to prepare them – for example, don't use the same knife to slice mushrooms that you used to cut raw chicken, and use different plates or cutting boards to slice them on.
Cook each kind of meat to its correct minimum temperature.
Wash your hands with soap and water after touching animals, their toys, and their bedding.
Wash raw fruits and vegetables well, and peel them if possible.
Source: WebMD
NEVER RELY COMPLETELY ON INFORMATION FOUND IN THE INTERNET REGARDING HEALTH. CONSULT A PHYSICIAN.