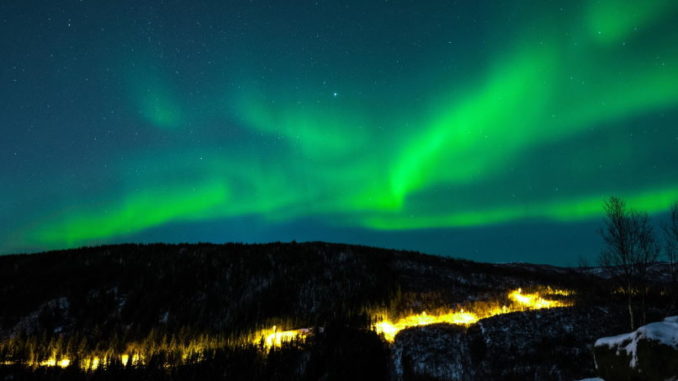 The bright dancing lights of the aurora (known as northern lights) are actually collisions between electrically charged particles from the sun that enter the earth's atmosphere. The lights are seen above the magnetic poles of the northern and southern hemispheres. They are known as 'Aurora Borealis' in the north and 'Aurora Australis' in the south. Auroral displays appear in many colors although pale green and pink are the most common. Shades of red, yellow, green, blue, and violet have been reported.
What causes the northern lights?
The Northern Lights are actually the result of collisions between gaseous particles in the Earth's atmosphere with charged particles released from the sun's atmosphere.
The temperature above the surface of the sun is millions of degrees Celsius. At this temperature, collisions between gas molecules are frequent and explosive. Free electrons and protons are thrown from the sun's atmosphere by the rotation of the sun and escape through holes in the magnetic field. Blown towards the earth by the solar wind, the charged particles are largely deflected by the earth's magnetic field. However, the earth's magnetic field is weaker at either pole and therefore some particles enter the earth's atmosphere and collide with gas particles.
When is the best time to watch for auroral displays?
Winter in the north is generally a good season to view lights. The long periods of darkness and the frequency of clear nights provide many good opportunities to watch the auroral displays. Usually the best time of night (on clear nights) to watch for auroral displays is local midnight.
Long winter nights are good but not necessarily the best time. Near equinoxes in March and September, the Earth's magnetic field lets more solar particles interact with the atmosphere, creating aurora seasons!
Where is the best place to watch the northern lights?
Some of the best places to watch the northern lights are: Iceland, Greenland, Tromsø in Norway, Northern Sweden and Finland.
In North America, you can see the lights in thenorthwestern parts of Canada and Alaska.
You hear about northern lights more often than southern lights (aurora australis) because there are fewer locations to see auroras from the Southern Hemisphere. Your best chance is on the southern tip of both Tasmania (Australia) and New Zealand, where a dark sky will help you see any active auroras over the southern horizon.
Areas that are not subject to 'light pollution' are the best places to watch for the lights. Areas in the north, in smaller communities, tend to be best.
Source: northernlightscentre.ca, nationalgeographic.com