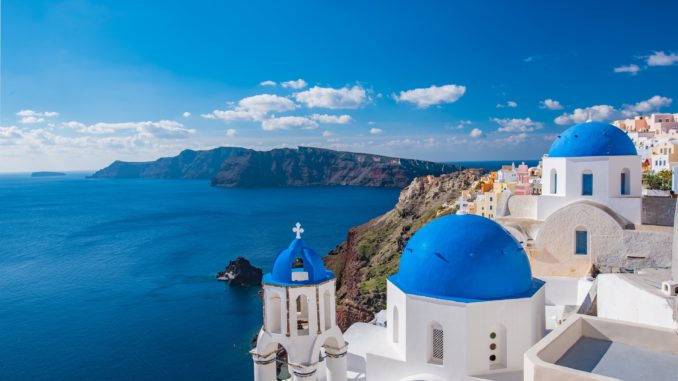 Santorini is a volcanic island of the Cyclades in Greece. It is world famous for its fantastic views, the amazing sunsets from the city of Oia, the magical city of Thira and of course the active volcano.
The island has a croissant shape and the neighboring islands imply the fact that Santorini was once circular. The islands that form Santorini were created as a result of intense volcanic activity. Twelve massive explosions took place, about once every 20,000 years, and each violent explosion caused the collapse of the central part of the volcano, creating a large crater (caldera) with towering rocks along the eastern side. It is perhaps the only volcano in the world whose crater is in the sea! The last major explosion occurred about 3,600 years ago.
Even if you have never been to this island of Cyclades in the Aegean Sea, you would recognize it immediately when you see the gleaming white and colored buildings built on cliffs and the churches with their azure rooftops. Here you will find true tranquility when you wander on the beaches and streets of a provincial village. Beautiful Oia is world famous for its sunsets, where thousands of couples gather to experience this work of art in the sky!
There are fantastic beaches with different sand colors, such as the black pebbled beach in Kamari, the white beach and the red beach. It is undoubtedly the ultimate romantic destination!